Past Events
---
Latest 2017 Events:
WEDNESDAY 5th JULY,  2017.  Annual Birthday Dinner at The Garrick Club
Each year the Society commemorates Terence Rattigan's birthday (10th June, 1911) with a birthday dinner, to which we invite a guest speaker.  We try to arrange a date as near to the birthday as possible and on this particular occasion we usually dress in style (Black tie) to reflect a dress code with which Sir Terence would be familiar.  This year we returned to the Garrick Club, hosted by our Vice President and Garrick Club member, Geoffrey Wansell.  The guest speaker was the celebrated biographer Hugo Vickers DL who spoke about several of the prominent figures who were Rattigan's contemporaries, such as Vivien Leigh and Chips Channon.  Our Vice President, Greta Scacchi, attended the dinner and Editor, Giles Cole, presented her with the scroll of honour, marking her Vice Presidency.  Fifty members attended a memorable evening in the Milne Room and the circular tables were each given the name of a Terence Rattigan play.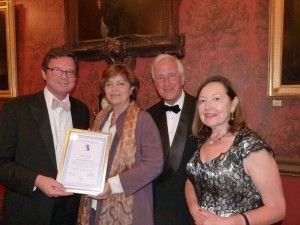 …………..
SATURDAY 25TH MARCH, 2017.  Visit to Brighton.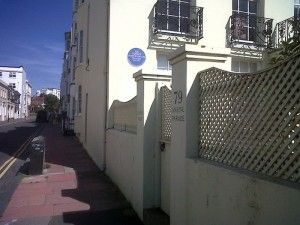 At the invitation of our member, Luke Jeffers, who is the owner of Terence Rattigan's former Regency house in Brighton, thirty five members visited on 25th March.  Luke allowed us to wander freely around the house and he had placed articles in each room to tell us how they were used and what they looked like during Rattigan's time there.  After a buffet lunch, we were taken by minibus to New Venture Theatre for a wonderful production of The Deep Blue Sea, directed by Pat Boxall.  Pat was congratulated by many members as having directed a more enjoyable version than the recent one at the NT.  Emmie Spencer was perfect as Hester and we thought she looked and portrayed the part as Rattigan would have wanted.  The day concluded with a meal at the nearby Lion & Lobster pub.  We had a private room, table plans and place cards.  Members agreed that this was one of our most enjoyable events.
Click the pictures to enlarge:
…………..
SATURDAY 4th MARCH, 2017.  A Party for the Script Readers at Terence Rattigan's birthplace
Thirty five TRS members were readers for 'The Terence Rattigan Society Award' and the Society gave them a party on 4th March, to say thank you.  We gathered at Sir Terence's birthplace, 100 Cornwall Gardens, courtesy of our member Mrs Junko Tarrant who owns the apartment which houses the English Heritage plaque on its balcony.  Two of our Vice Presidents (and third stage readers of the scripts) attended – Michael Darlow and Geoffrey Wansell as well as Sir Terence's close friend Adrian Brown and third stage reader John Scotney.  From the Committee were Chairman, Barbara Longford, Membership Secretary Diana Scotney, Treasurer Andrew Kenyon and webmaster Steve Bradley.  Barbara thanked all the readers for their thoughtful appraisals of the scripts.  Their help had been invaluable as 191 eligible scripts were received.  We are still working to reduce the final scripts to three, to be sent to the final judges.
Click the images to enlarge.
…………..