The Terence Rattigan Society Award
---
There were 191 (one hundred and ninety one) eligible entries for The Terence Rattigan Society Award. The criteria was quite strict and this play for the theatre had to be performable by no more than six actors, with doubling allowed. The standard of entries was extremely high and 35 readers were involved in the selection process before the scripts were sent to the final judges, Julian Fellowes, Dan Rebellato, Thea Sharrock and David Suchet. There were seventeen finalists, all of whose plays were considered to be of the highest possible standard. It was very difficult to make the final choices of third, second and first place.
Please see below for details of all seventeen final plays, which The TRS would like to recommend for future production.
The Onion at the End Roy Kendall 2F 3M 1B
A 1930s  hopeful comedy double act just about to open at the Winter Gardens in Southport in a summer show called "Follies of Parade"  have to finish developing the spots required at the same time as becoming involved with the family of their landlady and her disabled son.
Going Back Roy Chatfield 2F 2M
A long term captive of freedom fighters in an unnamed country returns home to Basingstoke after seven years and tries to pick up the pieces while feeling he wants to go back to the scenes of his captivity.
Wrong Move Peter Briffa  2M
A chess-master, Temple, annoyed at what he sees as an unfair portrait in a new novel entices the author Ogden to a basement where he confines him with release only possible if he wins a game of chess. Through interminable games we explore the relationship between the two.
A Case of You Ian Collinson 1F 2M
A husband and wife are accompanied on a trip to the Lake District by a lifelong friend of the husband who is introduced as a confirmed bachelor but who later is found to be rather more than that with feelings for his friend that are not merely affection.
After the Ball Ian Grant  3F 3M
Moving forward and back in time, between 1914 and 1985 the play follows the life of William Randall an idealist International Socialist, his family, relationships and his political beliefs.   William's idealism might bear fruit, but never in the present.
Bandit William Patterson 2M
Theatre of the Absurd meets the Goons and Galton & Simpson in a droll two hander about a couple of characters responding to events flashed up on a video screen while at the same time trying to decide what to do with an amputated arm.
Better Left Unsaid Tom Glover 2F 4M
Keith, fed up with his dysfunctional family, decides that it's time to end it all so he leaves letters around the house to his nearest and dearest. Prevented from carrying out his plan he returns home as the letters are discovered.
Bluey Carole Boyer 2F 2M 1M/F
Can a set of humanoid robots take the place of a human peace keeping force? Prototype 'Bluey' must be programmed and tested before mass production and implementation takes place and we join him and his minders in the lab. 
Broken Wings Roisin Moriarty  2F 2M
The arrival of a 25 year old son brought up by his evangelical American father throw the life of his birth mother and her close family into turmoil as she confronts issues from her past. 
Bust Tom Killigrew 3F 3M
When his wife Dilly is diagnosed with a terminal illness, top British sculptor Max is forced to reassess not only his attitude to women, but also his artistic practice. He creates a traditional portrait bust of his wife, carving it from the finest marble but  his relationships with friends, colleagues and particularly women, are changed for ever.
Finders Jason Hall 2F 1M
Joan and Zeb a young couple trying to live an ethical life and bringing up their  five-year-old son with the same valaues discover  an old forgotten bank account containing millions of pounds and are forced to deal with the issues it raises and its impact on their ethical life.
Funes,  the Memorious Paul Williams 2M
In a town in England after the second world war  two characters return home and try to  reintegrate into civilian life. Picking up the threads of home-life, family relationships, friendship, navigating work, becoming a father, dealing with family tragedy, and getting old at the same time coping with traumatic memories of the war.
Lenin in Poland John Morrison  1F 2M 1F/M
A proposal put to the Russian Government to turn the Lenin Mausoleum into an attraction as an art gallery involves Yelena the art specialist mistress of a neuveax riche Russian tycoon (who is to fund the enterprise) and Viktor, the embalmer in a series of interactions where the very nature of art is explored.
Prophecy Caroline Summerfield 3F 3M
In 1951 Catherine Cresswell is the as yet unborn child of Rosemary Farley. In the present she is a Conservative Home Secretary plotting to become Prime Minister. Both Catherine and her mother Rosemary are politically ambitious, but with very different consequences;. We see Catherine pursuing her ambitions now, whilst her mother, Rosemary  pursues her ambitions in 1951.
The Rattigan Affair  Lynda Strudwick 2F 4M
After knocking herself unconcious Lydia, a young journalist, writing  an article on Rattigan comes round to find herself in the presence of the "ghost" of Terence Rattigan himself who offers to help her with her article by introducing her to some of his major characters.
The Predator Sayan Kent  3F 1M
An inappropraite relationship between pupil and teacher raises questions of just who is the predator and who the bait as well as exploring the impact of the discovery on the teacher's mother, herself a soon to retire head teacher, and an ex-teacher journalist friend.
The Wild Boy Hugo Plowden  2F 3M 1B
The story of attempts to 'civilise' Peter the Wild Boy a feral child found in the woods in Hanover by George 1 and brought to England under the care of his wife Catherine of Ansbach and tutored by a Doctor Arbuthnot.
Casting details are for guidance only and must not be relied on. Producers interested in seeing any of the plays with a view to production should contact  Barbara Longford using the contact details on page five.
---
Previous Updates:
RESULTS ANNOUNCED BY JULIAN FELLOWS AT A CEREMONY AT HARROW SCHOOL ON TUESDAY 26th SEPTEMBER, 2017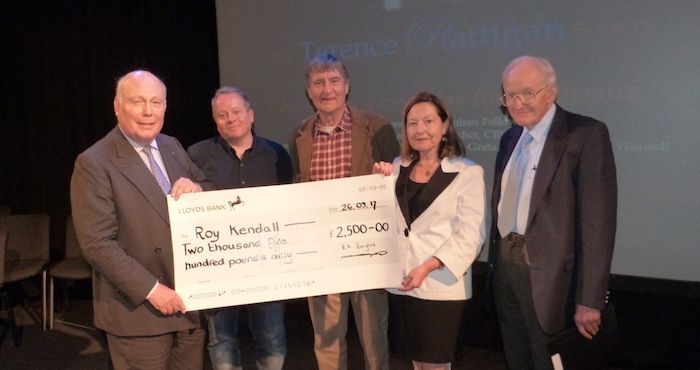 The Terence Rattigan Society is delighted to announce that the winning play is
THE ONION AT THE END (PRIZE WINNER)
by Roy Kendall
Julian Fellowes presented Roy Kendall with a cheque for £2,500 and a framed certificate for his play 'The Onion at the End'.  This play will have a professional production at The Sarah Thorne Theatre in Broadstairs, from 14th – 18th February, 2018, with a special Gala performance on Saturday 17th February (matinee) for members of the Society and Special Guests.  Click here for a synopsis of the play.
GOING BACK (RUNNER UP)
by Roy Chatfield
Julian Fellowes presented Roy Chatfield with a cheque for £1,000 and a framed certificate for his play 'Going Back'.  This play will have a rehearsed reading for members if the Society and their guests on Saturday 18th November, 2017 in a private room at Doggett's Coat & Badge on Blackfriars Bridge. Click here for a synopsis of the play.
WRONG MOVE (THIRD PRIZE)
by Peter Briffa
Professor Dan Rebellato (one of the final judges) presented Peter Briffa with a set of the plays of Terence Rattigan, donated for the occasion by Mr Nick Hern of Nick Hern Books.   The introductions to the Nick Hern collection were written by Dan Rebellato.  Julian Fellowes also presented him with a framed certificate. Click here for a synopsis of the play.
---
UPDATE:  April, 2017
The Society is pleased to announce that all of the 191 eligible scripts received for this award have now been read by two or more readers.  We have now achieved a final shortlist of 17 plays and these, in alphabetical order, are as follows:-
A CASE OF YOU
AFTER THE BALL
BANDIT
BETTER LEFT UNSAID
BLUEY
BROKEN WINGS
BUST
FINDERS
FUNES THE MEMORIOUS
GOING BACK
LENIN IN POLAND
PROPHECY
THE ONION AT THE END
THE RATTIGAN AFFAIR
THE PREDATOR
THE WILD BOY
WRONG MOVE
The writers of all these plays will be invited to the Awards Ceremony, which we hope will take place in the Autumn of 2017, when the winner and runner-up will be announced.  Our final judges – Julian Fellowes, Dan Rebellato,  Thea Sharrock and David Suchet, will be looking at the shortlisted plays during the next few months.
After the announcement of the winner and the runner-up, we shall make arrangements for writers whose plays have not been successful and who would like to have some feedback to learn about the readers' reports on their scripts.
There have been some outstanding entries and the Society would like to thank all the talented writers who made submissions.
---
Update 27th December, 2016 – 35 best plays, go forward to third reader stage.
The Judging panel is pleased to announce that all submitted scripts have been read by two of our readers and we have arrived at a Longlist of the 35 plays with the best marks and reports. These plays will now go forward to a third reader. Here is a list of the titles of the Longlisted plays, in alphabetical order.
A Case of You
After the Ball
Around Whole
Artists and Models
Bandit
Better Left Unsaid
Blackstone Rites
Bluey
Breakfast by Candlelight
Broken English
Broken Wings
Bust
Church Hurt
Collective Experience
Finders
Flies to Wanton
Funes, The Memorious
Further Education
Going Back
Hippolyta's Handyman
Ladybird Ladybird
Las Majas
Lenin in Poland
Mad Musings
Mutual Needs
Pariah
Prophecy
The Minotaur
The Onion at the End
The Rattigan Affair
The Wild Boy
Things We Should Have Said Today
White Island
Windows of Heaven
Wrong Move
---
HUGE SUCCESS for The Terence Rattigan Society Award for a new play for the theatre.
Update – October, 2016.
The Society is delighted to announce that by the closing date (end of August 2016) one hundred and ninety seven (197) scripts had been submitted for this award. Seven of these scripts were ineligible as they did not fit the criteria set out by the Society in the published rules.
We are now considering 190 scripts submitted from all over the UK. All scripts received have had an electronic acknowledgement and most of these 190 scripts have been sent out, anonymously, to two separate readers. When all the reports have been received, a longlist of plays will be sent on to a third reader.
The standard of submissions has been extremely high. To date thirty seven scripts have already been identified as having potential and will be read by a third reader and in addition many scripts have not yet been reported on by two readers.
The 20 best plays will go on to the next stage and eventually a shortlist of three plays will be selected and sent to the Final Judges – Thea Sharrock, Julian Fellowes, David Suchet and Professor Dan Rebellato.
This process will take rather longer than anticipated, due to the excellent response. We cannot say yet when the results will be announced, but please watch this space.
________
Poirot actor DAVID SUCHET and Downton Abbey creator JULIAN FELLOWES are amongst four judges for a new play award to honour Sir Terence Rattigan's unique contribution to British drama.
The Terence Rattigan Society Award is one of the few given for a new play for the theatre. The award winner will receive £2,500 and the play will be guaranteed a professional production of no less than six performances at the Sarah Thorne Theatre in Kent in the Summer of 2017. Equally attractive is the second prize of £1,000 and a guaranteed rehearsed reading. The other judges are director, Thea Sharrock and academic and Rattigan expert, Professor Dan Rebellato.
Welcoming the award, David Suchet said: "I'm thrilled that the Terence Rattigan Society is offering an award for a new play in his name. As one of this country's true masters of the dramatists' craft, it is a fitting tribute to his enormous contribution to the theatre".
His fellow judge Julian Fellowes commented: "Terence Rattigan is one of England's greatest playwrights whose light was hidden under a bushel for far too long before his recent rediscovery. An award in his name, dedicated to finding new talent and bringing it out of the darkness for the public to enjoy, seems only fitting."
Download Media Pack (Text-Only Version)
Copyright © Dandelion by Pexeto