Welcome
---
The Terence Rattigan Society
The Terence Rattigan Society was founded in Sir Terence Rattigan's centenary year, 2011,  to celebrate, enjoy and study the work and life of one of the Twentieth Century's greatest playwrights.  A prolific and successful author of plays and film scripts,  Terence Rattigan's most celebrated works include 'French Without Tears', 'The Winslow Boy', 'The Browning Version', 'The Deep Blue Sea', and 'Separate Tables'.
BENEFITS of membership include:
A regular printed copy of the dedicated magazine, with articles by leading playwrights, biographers and critics, as well as theatre listings and news and views.
Visits to the leading drama schools for Rattigan productions, by talented young students.
Masterclasses for students both young and mature, arranged in cooperation with the drama schools.
Theatre visits at discount prices, with optional suppers and an opportunity to meet like-minded people.  Discussions with cast members and directors.
Opportunities to visit Rattigan's home at Albany and his birthplace in Cornwall Gardens.
Events at The Garrick Club, courtesy of its historian, Geoffrey Wansell.
Opportunities to attend events at Rattigan's former school, Harrow and to explore their Rattigan archive.
Opportunities to visit RAF sites with a Rattigan resonance, with film screenings and supper.
Walking tours of areas where Rattigan lived and worked.
The Society was founded in 2011 with the support and approval of The Sir Terence Rattigan Charitable Trust and also of his biographers, Michael Darlow and Geoffrey Wansell.
President: David Suchet, CBE.
Vice Presidents:  Michael Darlow, The Lord Fellowes of West Stafford, DL, Dr Holly Hill, Greta Scacchi, Geoffrey Wansell
Chairman:  Barbara Longford
Latest News
January 2020 – The latest issue of the Society's newsletter, The Rattigan Version, has been mailed to members.
7th March 2020 – Cause Celebre – Hampton Hill Theatre
Hampton Hill Theatre is putting on Cause Celebre from 7th March to 13 March 2020 and the Society will be going to the matinee performance at 4pm on 8th March.  For further details see our events page.
28th & 29th February 2020 – In Praise of Love – Hertford Theatre
Hertford Theatre are putting on In Praise of Love at 7.30pm on 28th & 29th February 2020.  Further information is on the theatre's website: www.hertfordtheatre.com and tickets can be booked online or through the theatre's box office – tel: 01992 531500.
11th February 2020 – French Without Tears – LAMDA
Our next event will be a visit to the matinee performance (2.15pm) of 'French Without Tears' on Tuesday, 11th February 2020. The performance will be by students of London Academy of Music & Dramatic Art (LAMDA) and is the third production of a Rattigan play which has been sponsored by The Terence Rattigan Society's Harold & Pegs French Award.
The performance will start at 2.15pm and will be followed by a question and answer session with the cast when the actors will have the opportunity to share their experience of working with Rattigan's characters. This will be chaired by Michael Gaunt and will be attended by Penny Cherns (the director). The Q&A will be followed by tea, cake and chat with the actors and audience.
Last modified on 2019-12-06 21:17:50 GMT. 0 comments. Top.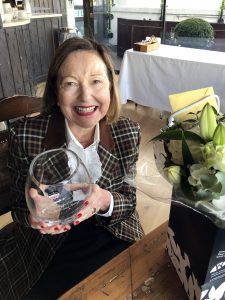 Barbara Longford (above), the founder and Chairman of the Rattigan Society since 2011.  Barbara stepped down as Chairman at the recent AGM – read her Chairman's Report which includes highlights of Society events since 2011 here  Chairman's report – AGM
The Society's AGM, play reading and buffet lunch was held on Saturday, 30th November at Doggetts Coat and Badge in London.
The AGM was the Society's opportunity to thank Barbara Longford who stepped down as Chairman and celebrate the enormous amount of work, energy and dedication she has given to the Society.  She founded the Society in 2011 and since then has been planning and arranging most of the events over the past eight years.  Barbara reported on the highlights of the many exciting events that have taken place since the Society's inception.
The play read was Wrong Move by Peter Briffa, directed by Michael Gaunt and performed by Giles Cole and Martin Amherst Lock.   Wrong Move was submitted for The TRS Award and was considered to be outstanding by our readers. It involves a chess-master, Temple, who is annoyed at what he sees as an unfair portrait in a new novel and so entices the author, Ogden, to a basement where he confines him with release only possible if he wins a game of chess. Through interminable games the relationship between the two is explored.  We were pleased that Peter Briffa was able to join us for the reading and lunch.
The Society has recently joined the Alliance of Literary Societies – do visit their website: allianceofliterarysocieties.wordpress.com and in particular the publications area where you will find newsletters and copies of the ALS journal ALSo.  The Autumn 2019 Newsletter from the ALS is now available on their website.
Two events were held at the British Library on Tuesday 17th September.  Both events were hosted by Society member Professor Dan Rebellato.
At the first event called 'Show and Tell' Professor Rebellato and a British Library Curator enabled Society members to see and handle some of the early drafts of Rattigan's most famous plays, letters, cuttings files and more.
At the second event called 'Craftsman at Work!  Secrets from the Rattigan Archive' Professor Rebellato, who has worked in the Rattigan Archive for over twenty years, gave an illustrated lecture with a glimpse into what the Archive can tell us about Rattigan's process, his craft and his theatre.
For News, click here.