Welcome
---
The Terence Rattigan Society
The Terence Rattigan Society was founded in Sir Terence Rattigan's centenary year, 2011,  to celebrate, enjoy and study the work and life of one of the Twentieth Century's greatest playwrights.  A prolific and successful author of plays and film scripts,  Terence Rattigan's most celebrated works include 'French Without Tears', 'The Winslow Boy', 'The Browning Version', 'The Deep Blue Sea', and 'Separate Tables'.
BENEFITS of membership include:
A regular printed copy of the dedicated magazine, with articles by leading playwrights, biographers and critics, as well as theatre listings and news and views.
Visits to the leading drama schools for Rattigan productions, by talented young students.
Masterclasses for students both young and mature, arranged in cooperation with the drama schools.
Theatre visits at discount prices, with optional suppers and an opportunity to meet like-minded people.  Discussions with cast members and directors.
Opportunities to visit Rattigan's home at Albany and his birthplace in Cornwall Gardens.
Events at The Garrick Club, courtesy of its historian, Geoffrey Wansell.
Opportunities to attend events at Rattigan's former school, Harrow and to explore their Rattigan archive.
Opportunities to visit RAF sites with a Rattigan resonance, with film screenings and supper.
Walking tours of areas where Rattigan lived and worked.
The Society was founded in 2011 with the support and approval of The Sir Terence Rattigan Charitable Trust and also of his biographers, Michael Darlow and Geoffrey Wansell.
President: Sir David Suchet CBE
Vice Presidents:  Michael Darlow, The Lord Fellowes of West Stafford, DL, Dr Holly Hill, Greta Scacchi, Geoffrey Wansell
Founder: Barbara Longford
Chairman:  Martin Amherst Lock
Latest News
25 November 2023: AGM
The Terence Rattigan Society AGM will be held on Saturday 25 November.  We shall meet at Bacco Italian Restaurant, 39-41 Kew Road TW9 2NQ from 11am for coffee and biscuits before starting the AGM at 11.30am.   The Agenda and financial statement can be found here: AGM – 25 November 2023 – Agenda TRS Accounts Oct 2022-Sep 2023 summary
The AGM will be followed by lunch from 12.15pm onwards, after which we will go to the Orange Tree Theatre for the matinée performance of She Stoops to Conquer at 2.30pm.
7 NOVEMBER 2023: SOCIETY DAY OUT IN BRIGHTON TO VISIT THE ROYAL PAVILION AND BEDFORD HOUSE, TERENCE RATTIGAN'S FORMER REGENCY HOME
Bedford House, Brighton is a handsome Grade II listed Regency house with stunning  seaside views. Rattigan owned the house between 1961 and 1967 before moving to Bermuda, where he lived until his death in 1977.  While there he entertained a number of famous guests including Vivien Leigh and Laurence Olivier.  Since Rattigan, the house has had a wide variety of owners, including talent agent Roger Hancock, the brother of famed comedian Tony Hancock. Hancock was known for representing a wide variety of stars including Oscar nominee Peter Sellers and comedy star Spike Milligan.
Its current owners, Luke Jeffers and his husband Rob Jeffers, have meticulously restored and renovated the house, converting its wine cellar into an art deco cinema room. Terence Rattigan's study is still on display with its original fireplace intact.
 Luke Jeffers has very kindly invited members of the society to visit the house, which is now on the market, before it is vacated.  After catching a morning train from London Victoria we shall start our day's outing by exploring Brighton's famous Royal Pavilion (£18 admission) before having lunch at a seaside restaurant.  We shall then go to Bedford House for a tour given by Luke Jeffers and coffee or tea and cake, returning to London in the early evening.
If you would like to join us on this outing please email Martin Amherst Lock: mramherstlock@gmail.com
SATURDAY 18 MAY 2024 — A GRAND DAY OUT TO BATH INCLUDING A MATINEE PERFORMANCE AT THE USTINOV STUDIO, THEATRE ROYAL BATH OF THE DEEP BLUE SEA
Tamsin Greig stars in Terence Rattigan's 1950s study of obsession and the destructive power of love.   The Society is planning a morning departure for Bath by train from Paddington to allow time for an add-on visit, probably to the charming Holburne Museum: www.holburne.org
Further details including advice on the appropriate train to book will be given closer to 18 May in time to take advantage of discounted rail offers.  We will reserve tables for a c.5.30pm post-performance supper at the Garrick's Head (part of the Theatre Royal complex) for a self-billed meal.  
Click here: Bath DBS 18 May 2024 (002) for further information and booking form.
THE WINSLOW BOY – ORIGINAL FILM SCRIPT
The Society has heard that a copy of the original script used in the filming of The Winslow Boy in 1948 is for sale. It was the script used by Jack Causey, a director's assistant. It includes two rewritten scenes. For further information, email the Society: terencerattigansociety@gmail.com
ANNUAL BIRTHDAY DINNER – 7 for 7.30pm – Friday 9 June 2023
The Annual Birthday Dinner will be held on Friday, 9th June 2023 at 7 for 7.30pm at The Garrick Club, 15 Garrick St, London WC2E 9AY.  The Guest of Honour and Speaker will be Philip Franks.  Dress code: black tie
The Society is delighted to announce that Philip Franks has accepted our invitation to be the guest speaker this year. Philip Franks is an accomplished TV and theatre actor, familiar to many from his TV appearances as Charley in The Darling Buds of May and Sgt Raymond Craddock in Heartbeat. He is also a highly successful theatre and radio director, having directed over thirty stage productions across the UK including The Deep Blue Sea, Separate Tables and The Browning Version. We look forward in particular to hearing his thoughts on directing Rattigan.
For further details, costs and booking form, click here: Birthday Dinner – June 2023 – flyer
SEPARATE TABLES – 7.45pm on Friday 12 MAY 2023
The Society has arranged a trip to a performance of Separate Tables by Terence Rattigan at Bromley Little Theatre, North Street, Bromley BR1 1SB
In a 1950s Bournemouth hotel where the furnishings and the residents have both seen better days, secrets and scandal lie beneath the carefully placed tablecloths. Marooned on separate tables, Rattigan presents a rich collection of characters who superbly present the vulnerability, loneliness and misplaced pride of lives essentially unfulfilled. 
The performance will be preceded by supper at 6.00pm at Aqua Bar and Grill, 4-6 Market Parade, East St, Bromley BR1 1QN which is very close to the theatre (pay individually).   For further details, costs and booking form, click here: Separate Tables flyer
PRIVATE LIVES by NOEL COWARD – 25 MAY 2023
The Society has arranged a visit to the matinee performance of Private Lives by Noel Coward at the Donmar Warehouse on Thursday 25 May 2023.  We will also be meeting for lunch (self-billed) at the Rock & Sole Plaice, 47 Endell Street WC2H 9AJ.  For more details, costs and booking form, please click here: Private Lives flyer
GUSTAV MAHLER AT THE ROYAL ALBERT HALL – 27th April 2023
The Society has arranged a visit to the Royal Albert Hall to include a tour of the RAH and a two course dinner at Café Verdi, the RAH's in-house restaurant, followed by Mahler's Symphony No.3 in D minor.  Vasily Petrenko: conductor; Hanna Hipp: mezzo-soprano; Philharmonia Chorus; Tiffin Boys' Choir; Royal Philharmonic Orchestra.  For further details, cost and booking form, please click here: RAH Mahler Flyer
THE ALLIANCE OF LITERARY SOCIETIES
The Society is a member of the ALS – the Spring Newsletter can be read here: ALSO – Spring 2023
SATURDAY 10 DECEMBER 2022 – CHRISTMAS OUTING
We will be attending a matinee performance of Arms and the Man by George Bernard Shaw at the Orange Tree Theatre, Richmond.  This will be followed by a two-course dinner at Bacco Ristorante Italiano.
SUNDAY 20 NOVEMBER 2022 – AGM, LUNCH AND MATINEE PERFORMANCE OF 'THE DOCTOR'
We are once again combining our AGM with an exciting theatrical event.  We start the day with the formal proceedings, which include the election of the Committee and the adoption of accounts.  The AGM will be followed by a two-course lunch at Koha Restaurant, 10-11 St Martin's Court, London WC2N 4AJ. 
We will then attend the matinee performance of The Doctor by Arthur Schnitzler at The Duke of York's Theatre.  
THE ALLIANCE OF LITERARY SOCIETIES
The Society is a member of the Alliance of Literary Societies and their 2022 – Journal – The Day Job is available here: also2022.pdf (wordpress.com)
THEATRE TRIP – FRIDAY 30 SEPTEMBER 2022 
The Society has arranged a trip to the Bridge Theatre (next to London Bridge) to see JOHN GABRIEL BORKMAN by Henrik Ibsen – 7.30pm – tickets: £45
We are also reserving tables at The Ivy immediately adjacent to the Theatre at 5.30pm for members who would like to join us (individuals will pay for themselves at the restaurant).
Please contact Phill Ward:  phillward@me.com if you are interested in attending the theatre and/or The Ivy.  Bookings must be made by 2 September 2022.
ANNUAL BIRTHDAY DINNER – MONDAY 6 JUNE 2022
The Annual Birthday Dinner was held at The Hurlingham Club, Ranelagh Gardens, London, SW6 3PR on 6 June 2022.  The Society was delighted that Dan Rebellato accepted our invitation to be the guest speaker.
SPRING THEATRE DATES
The Society enjoyed the following theatre visits:
Saturday 23 April 2022, 2.30pm
THE FEVER SYNDROME by Alexis Zegerman
Dr Richard Myers, the great IVF innovator, is virtually a secular saint because of the thousands of babies he has created throughout his career. Now, his family gather to see him receive a lifetime achievement award. This fractious group are more accustomed to debate than empathy, so it's not long before the family home in the Upper West Side of Manhattan is once again alive with dispute: conflicting Thanksgiving memories and polarised opinions on investment banking and how best to care for their ailing father. And crucially, who will inherit Richard's wealth and Richard's prestigious science institution?
Stars Robert Lindsay.  Director: Roxana Silbert.
Hampstead Theatre.  Tickets: £25.00 senior (£30 standard rate)
Wednesday 1 June 2022, 2pm
THE CORN IS GREEN by Emlyn Williams
Emlyn Williams' semi-autobiographical drama The Corn is Green gets its first London revival for thirty-five years with director Dominic Cooke's new, large-scale production. Nicola Walker, alongside Iwan Davies, leads the company as Miss Moffat, a headstrong English teacher working in an impoverished mining village in late 19th-century Wales. Set and costume design by ULTZ.
National Theatre, Lyttelton. Tickets: £46.00 senior (£66 standard rate)
Saturday 16 July 2022, 2.45pm
FOLK by Nell Leyshon 
Hampstead Theatre has just announced a bring-back of Folk which some of us were due to see earlier this year.  Hopefully those who had previously booked, as well as other members, will be able to join us on this occasion.
1903, Somerset. Rooted in the land where she has lived her entire life, Louie Hooper's mind overflows with its songs – more than 300 of them passed down from her mother. Cecil Sharp, a composer visiting from London, fears England's folk songs will be lost forever and sets out on a mission to transcribe each and every one. He believes Louie's music should speak not just for this place but for the whole of England.
Inspired by a true story, Nell Leyshon's Folk is a beautiful new play with songs.  Directed by Roxana Silbert.
Hampstead Theatre, Tickets £10 senior (£20 standard rate)
Some events of interest to members
The following two events will be of interest to members – individual bookings can be made via the relevant website:
HERE AT LAST IS LOVE by David Charles Manners
The true story of Sodomy Johnson, who ruled The Pink Sink bar beneath the Ritz Hotel throughout the Blitz.  As doyenne and procuress, she provided refuge, hospitality and more for some of the most significant and glittering figures of wartime London. In this remarkable new stage-play by playwright and author David Charles Manners, Johnson's assembly of writers, actors, army officers and MI5 agents bear unabashed, passionate witness to their hidden romances and subterfuge through letters, diaries, verbatim reminiscence and even a recently discovered, unpublished work by Terence Rattigan – all with a delightful dash of song and dance. Directed by Jason Morell.
STABLES THEATRE, HASTINGS
Tuesday 24 – Saturday 28 May, 7.30pm (matinee 28th 2.30pm). £13.50 
http://stablestheatre.co.uk/here-at-last-is-love/
 HARROW / ETON CRICKET MATCH 
It's a sign of our times that the M.C.C. has declared the 2022 fixture to be the last held at the venerable home of cricket: Lords. Both this famous school-boy match, running annually since 1805 and the equally historic under-graduate fixture of Oxford v. Cambridge are making way for wider opportunities to be offered within the game. So June will be the last opportunity to experience where Rattigan once played representing Harrow School. 
LORDS, MARYLEBONE CRICKET CLUB
Tuesday 28 June, 11am, £20 
https://tickets.lords.org/en-GB/shows/eton%20v%20harrow/events
The Alliance of Literary Societies (ALS)
The Society is a member of the ALS – their latest Newsletter can be read here: ALS Newsletter – Spring 2022 
Saturday 5th February – A Day At Hampstead Theatre
The Society has decided to widen the scope of events in future. Given Rattigan's plays are not performed with the frequency of, say, Shakespeare's, the two titles offered in February were by playwrights we believe he'd approve of and plays he would keen to see himself. From time to time future visits not connected to Rattigan himself will be similarly curated.
Unfortunately the first of the two plays at Hampstead: Folk was cancelled due to covid.  So Society members met for supper at nearby Bradleys and saw a preview on the main stage at Hampstead Theatre of Florian Zeller's new play The Forest directed by the ever dependable Jonathan Kent.
Flare Path – Saturday 4 December 2021 – 2.30pm at the Dixon Studio, Palace Theatre, Westcliff-on-Sea, Essex
JOIN US for a day out to the seaside (close enough!) to see The Southend Shakespeare Company (est.1951) perform Rattigan's moving wartime play.  The Society has also scheduled a post-show Q+A – with some of the cast and the director — in the theatre. Following this we shall adjourn for supper directly opposite at welcoming Italian restaurant, Il Palazzo.  The booking form is here: Flare Path – Booking Form – please book by 19 November 2021.
While the Sun Shines at the Orange Tree Theatre
The Society will be attending the matinée performance of While the Sun Shines at the Orange Tree Theatre, Richmond on Thursday 2nd December followed by an early supper.  Contact: Phill Ward, Events Secretary at phillward@me.com
AGM – 21 November 2021 at the Sun Inn, Richmond-upon-Thames
The Annual General Meeting of the Terence Rattigan Society will take place at 12 noon on Sunday 21st November at the Sun Inn, Richmond-upon-Thames.  It will be followed by a traditional Sunday lunch and the opportunity to attend the 2.30pm matinée performance at Richmond Theatre of Poirot and More, a Retrospective, in which our President, Sir David Suchet, is making his eagerly awaited return to the stage. Poirot and More looks back fondly at Sir David's illustrious theatrical life, exploring some of the many characters he has portrayed on stage and screen over a career spanning five decades. Our Vice-President Geoffrey Wansell, journalist, broadcaster, biographer and co-author of Poirot and More, will be joining David as interviewer in this unique opportunity to meet the actor behind the detective.
Here is the booking form for the event: AGM 2021 – Booking form
Please return the form to Alison Du Cane by Monday 8th November at the latest. The charge of £50 covers both the cost of a ticket for the performance and a Sunday lunch main course.
Rattigan Memorial Fundraising Project (RMFP)
A GoFundMe page https://gofund.me/722dc999 has been set up to raise money for the restoration of the Rattigan Family Memorial at Kensal Green Cemetery.  The aim is to raise £24,000 which will ensure the structure of the memorial will be secured for generations to come, the memorial itself will be cleaned and repaired and Rattigan's name will finally be placed alongside other members of his family.  Anyone who would like to donate can do so by making a bank transfer to the Terence Rattigan Society bank account (22820768, sort code: 30-64-72 using the reference RMFP).  If you would like further information about the project, please email the Secretary of the Society at: mramherstlock@gmail.com
The Alliance of Literary Societies
The Terence Rattigan Society is a member of the Alliance of Literary Societies.  Read their latest publications here:
ALSo – 2021 Journal: ALSO 2021
Newsletter – Autumn/Winter 2021: ALS – Newsletter – Autumn, Winter 2021
The Stage (29 July 2021)
An article by Nick Smurthwaite in The Stage (29 July 2021) on Terence Rattigan: The rise, fall and rise again of a 20th-century great looks at Rattigan's enduring appeal, a new discovery and attempts to give him a fitting resting place – go to: www.thestage.co.uk
The Browning Version – CANCELLATION
Sadly we have received information from the theatre that the production of The Browning Version which was due to take place at the Riverside Studios in August 2021 has had to be cancelled.  The impact of cast members getting infected by Covid-19 or being asked to isolate as a result of exposure to the virus has been such that the production is no longer viable or able to be staged successfully.
Birthday Dinner at the Oxford  and Cambridge Club – Thursday 23rd September 2021
The Sir Terence Rattigan Birthday Dinner is to be held at the Oxford and Cambridge Club on Thursday 23rd September. We very much look forward to seeing members then and to welcoming our President Sir David Suchet who, subject to his availability, will be our guest of honour.  Further details and the booking form: O and C B'day Dinner Flyer 2021
The Rattigan Version Issue 36 is now available to Society Members – hard copies have been mailed out and the online version is available in the Members Section of the website.
Details of future amateur productions of Rattigan plays have been added to the website – look out for details of further productions in due course.
The Society is a member of the Alliance of Literary Societies (ALS) – you can read the ALS Spring Newsletter here: ALS spring newsletter
The old Theatre Museum archive, now at the V&A (formerly at Blythe House), looks likely to be a casualty of the museum's need to cut expenditure. Its loss would be a devastating blow to any archival historical research into British theatre. A petition has been sent up by SIBMAS (the International Association of Libraries, Museums, Archives and Documentation Centres of the Performing Arts) asking senior management of the V&A to reconsider the position of the Theatre & Performance Department before they rush to close the archives and library and make responsible staff redundant.  For further information and to sign the petition, click here: https://www.change.org/p/tristram-hunt-director-v-a-performing-art-heritage
All On Her Own by Terence Rattigan starring Janie Dee to stream from 16 February 2021
Jack Maple & Brian Zeilinger-Goode for MZG Theatre Productions will produce a brand new digital production of Terence Rattigan's one-woman play, All On Her Own, starring award-winning actress Janie Dee and directed by Alastair Knights, with Jack McCann as assistant director and original music by Lindsey Miller. The show will be available to stream for eight performances only via stream.theatre from 16 to 21 February 2021. More information about the production is available at stream.theatre or the direct link http://www.allonherown.com
Live Online Play Reading – Heart to Heart by Terence Rattigan Wednesday 20 January 2021 at 7pm via Zoom
In the absence of any normal events for the Society – for reasons we know only too well! – and by arrangement with Alan Brodie Representation the Society is presenting a live online reading of a lesser-known play by Terence Rattigan and we hope members will wish to 'attend' the reading.  Please see here Heart to Heart flyer for further details of how to attend via Zoom.
Here is a message from the Cinema Museum:  Pretty much all the Gov COVID-emergency funding to support closed arts organisations has been distributed and The Cinema Museum didn't qualify to apply for any of it – there was always just one box we couldn't tick. So we need to raise the money to look after the buildings and pay all the bills, with no income streams for a year and no Gov funding.  So, we have set up a Crowdfunder with Toby Jones and Rory Kinnear to raise £60,000 and we have raised over £45,000 from over 1000 people so far  – which is great, but we need a new big push to get to the finish line. Please consider donating and encouraging others to donate – preferably both!  £1 is just fine.
Here is the link:
https://www.crowdfunder.co.uk/reopen-and-reimagine-the-cinema-museum
The 2020 Annual General Meeting of the Terence Rattigan Society was held on Monday, 23 November 2020 at 6.30pm.  As we were still not able to meet in person, the AGM was held via Zoom.
Here is Roger's last quiz Rattigan quiz 5 with answers to quiz 4 including the answers to the previous quiz.
Here is Roger's next quiz Rattigan quiz 4 with answers to quiz 3
The Society is a member of the Alliance of Literary Societies (ALS) – the ALS Journal 2020 is available here: ALSo 2020
The National Theatre at Home will be screening The Deep Blue Sea starring Helen McCrory from 7pm UK time on Thursday 9th July until 7pm UK time on Thursday 16th July.
Click here Rattigan quiz 3 for Roger's next quiz – answers soon!
Here are the answers to last week's quiz (Quiz 2) Answers to quiz 2.
Here is another of Roger's QUIZZES and the answers to last week's quiz Rattigan quiz 2.
Another QUIZ – Rattigan quiz 1  – this quiz has been devised by Society Committee member, Roger Mills – the answers will be posted next Monday 22nd June together with another quiz to keep you busy!
Terence Rattigan Society Quiz – Answers!
Here are the answers to quiz – TERENCE RATTIGAN SOCIETY QUIZ ANSWERS – do let us know how you got on!  Thanks again to Giles Cole for devising the quiz.
In Praise of Love
Jermyn Street Theatre has announced a rehearsed reading of In Praise of Love which will air on Tuesday 26th May at 7.3pm – it is free to watch and will be hosted via youtube.
In Praise of Love
By Terence Rattigan
Directed by Cat Robey
STARRING
Issy Van Randwyck as Lydia
Jack Klaff as Sebastian
Andrew Francis as Mark
Mackenzie Heynes as Joey
Lydia is dying. Her husband Sebastian knows her diagnosis but refuses to let on, and their son Joey is stuck in between. Family friend Mark must be confidante to all as the misunderstanding heightens. How long can their pretences continue before each character's unspoken emotion is fully revealed?  Rattigan's masterful penultimate play is a tender and funny examination of the full range of human love and pain, loosely inspired by the relationship between actors Rex Harrison and Kay Kendall.
Terence Rattigan Society Quiz
Here is the TERENCE RATTIGAN SOCIETY QUIZ  to keep your TRS brains in trim!  Answers will appear here on Monday, 18th May 2020.  Thanks to Giles Cole for devising the quiz.
The Terence Rattigan Society is a member of the Alliance of Literary Societies – read the latest ALS Newsletter here: ALS – Spring 2020
Birthday Dinner
The birthday dinner which was booked for Tuesday 9th June has been cancelled – we hope to rearrange at a future date and details will be sent to members.
7th-13th March 2020 – Cause Celebre – Hampton Hill Theatre
Hampton Hill Theatre put on Cause Celebre from 7th March to 13 March 2020 – there is a trailer on the theatre company's new YouTube channel: https://www.youtube.com/watch?v=ZDlzPchV7rc
11th February 2020 – French Without Tears – LAMDA
28 members of the Society attended the matinee performance (2.15pm) of 'French Without Tears' on Tuesday, 11th February 2020. The performance was by students of London Academy of Music & Dramatic Art (LAMDA) and was the third production of a Rattigan play which has been sponsored by The Terence Rattigan Society's Harold & Pegs French Award.
The performance was followed by a question and answer session with the cast when the actors had the opportunity to share their experience of working with Rattigan's characters. This was chaired by Michael Gaunt and attended by Penny Cherns (the director). The Q&A was followed by tea, cake and chat with the actors and audience.
January 2020 – The latest issue of the Society's newsletter, The Rattigan Version, has been mailed to members. who can also read it on the members section of the website.  Everyone can read previous versions of the newsletter which are available on the website.
Last modified on 2020-02-18 09:20:25 GMT. 0 comments. Top.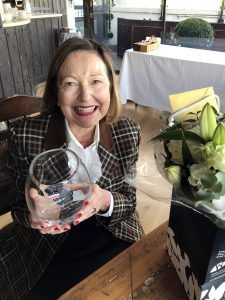 Barbara Longford (above), the founder and Chairman of the Rattigan Society since 2011.  Barbara stepped down as Chairman at the recent AGM – read her Chairman's Report which includes highlights of Society events since 2011 here  Chairman's report – AGM
The Society's AGM, play reading and buffet lunch was held on Saturday, 30th November at Doggetts Coat and Badge in London.
The AGM was the Society's opportunity to thank Barbara Longford who stepped down as Chairman and celebrate the enormous amount of work, energy and dedication she has given to the Society.  She founded the Society in 2011 and since then has been planning and arranging most of the events over the past eight years.  Barbara reported on the highlights of the many exciting events that have taken place since the Society's inception.
The play read was Wrong Move by Peter Briffa, directed by Michael Gaunt and performed by Giles Cole and Martin Amherst Lock.   Wrong Move was submitted for The TRS Award and was considered to be outstanding by our readers. It involves a chess-master, Temple, who is annoyed at what he sees as an unfair portrait in a new novel and so entices the author, Ogden, to a basement where he confines him with release only possible if he wins a game of chess. Through interminable games the relationship between the two is explored.  We were pleased that Peter Briffa was able to join us for the reading and lunch.
The Society has recently joined the Alliance of Literary Societies – do visit their website: allianceofliterarysocieties.wordpress.com and in particular the publications area where you will find newsletters and copies of the ALS journal ALSo.  The Autumn 2019 Newsletter from the ALS is now available on their website.
Two events were held at the British Library on Tuesday 17th September.  Both events were hosted by Society member Professor Dan Rebellato.
At the first event called 'Show and Tell' Professor Rebellato and a British Library Curator enabled Society members to see and handle some of the early drafts of Rattigan's most famous plays, letters, cuttings files and more.
At the second event called 'Craftsman at Work!  Secrets from the Rattigan Archive' Professor Rebellato, who has worked in the Rattigan Archive for over twenty years, gave an illustrated lecture with a glimpse into what the Archive can tell us about Rattigan's process, his craft and his theatre.
For News, click here.