2011 Events
---
TUESDAY 6TH DECEMBER, 2011 – CHRISTMAS PARTY IN RATTIGAN'S FORMER CHAMBERS AT ALBANY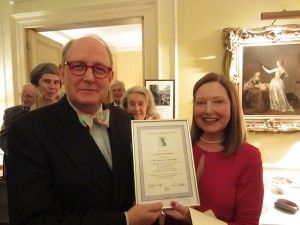 The following details appeared in the Society's newsletter 'The Rattigan Version'
FOUNDER MEMBERS OF THE SOCIETY are invited to attend a special event in the former chambers of Sir Terence Rattigan, CBE at Albany.  Sir Terence lived here from 1943 to 1946 and set his play 'While the Sun Shines' (first produced in December 1943) entirely in Lord Harpenden's chambers there. Founder members are invited to attend, courtesy of Antony Fletcher, the owner of the set, who arranged for a plaque in memory of Rattigan to be erected there and unveiled by Sir Derek Jacobi, in 2007.
Guest Speaker – Geoffrey Wansell
Our Vice President, the author of 'Terence Rattigan: A Biography', is the Society's guest speaker and Mr Wansell has agreed to sign copies of his engrossing 1995 biography (updated 2010), which will be available for purchase at a members' discount.
The Chairman, Barbara Longford,  gave the following speech of welcome.
"I'm sure you would all like to join me in thanking Antony Fletcher for allowing us to use his elegant chambers this evening,  which  were leased by Terence Rattigan from June 1943 for two years.  After the success of Flare Path and the RAF having confirmed that he was to remain with its film unit, Terence was looking for a central London apartment and Albany, with so many distinguished writers having lived here, was an obvious choice.  He paid a rent of £250 a year and during his tenure he wrote his very successful play 'While the Sun Shines',  which he set entirely in Albany.
We have several distinguished guests to welcome this evening –
Our President – Princess George Galitzine, who was a close friend of Terence Rattigan
Vice President – Michael Darlow and his wife Sophie
Terence Rattigan's friend – the director Adrian Brown
Rattigan scholar and expert – Professor Dan Rebellato
The Chairman of the Sir Terence Rattigan Trust – Lee Penhaligan
And also someone who has worked tirelessly and devotedly towards the great success of this  centenary year – Alan Brodie, who represents the Terence Rattigan Estate.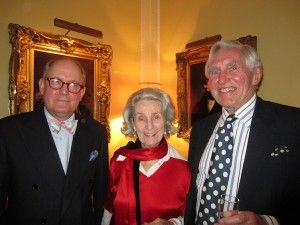 Our Guest of Honour this evening is Geoffrey Wansell, who is going to talk to us about writing his biography of Terence Rattigan,  which was first published in 1995 and shortlisted for the Whitbread Prize.   It is a remarkable book,  being both meticulously researched and deeply moving and it was Geoffrey's book which gave me the inspiration to try to start up our Society.   It has a compelling Prologue,  which immediately draws you in.   The reader is invited to imagine a series of scenes throughout Rattigan's life beginning at the peak of his fame and fortune.
Terence is lying languidly on a sofa in his sumptuous Eaton Square flat in 1951, wearing an immaculate Savile Row jacket,  surrounded by beautiful and valuable objects and listening to Puccini.  His Rolls Royce is parked outside and he is one of the most celebrated playwrights of the century.  But the ultimate scene described, towards the end of his life, is so bleak by comparison that we simply must read the book to find out how he fell from grace.  Geoffrey and Michael Darlow, whose acclaimed biography we highlighted at our inaugural event in September,  have both done so much to ensure that the Rattigan flame continues to burn.
As well as having published eight books, including biographies of Cary Grant and Sir James Goldsmith, Geoffrey is the official historian of The Garrick Club.  He is also a journalist, film producer and screenwriter.
Geoffrey has given the Society the greatest help and encouragement from the outset and at our first meeting, in July, the Committee decided  to invite him do us the honour of becoming Vice President.  So Geoffrey, on behalf of us all, I thank you and now present you with your official scroll, marking your Vice Presidency of The Terence Rattigan Society. "
The party was a great success and with kind permission of Antony Fletcher, the Society hopes to return to this unique residence on a future occasion.
…………….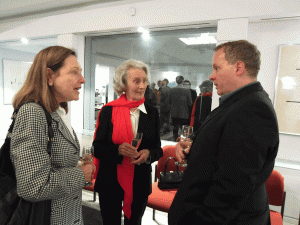 THURSDAY 8TH SEPTEMBER, 2011 – FIRST EVENT AT HARROW SCHOOL
Society members were invited by Martin Tyrrell, Director of Drama at Harrow School,  to The Ryan Theatre to hear a talk given by Professor Dan Rebellato – 'Terence Rattigan and the Theatre of Emotion'.  They were also invited to a champagne reception afterwards.  Professor Rebellato is a member of the Society and has agreed to speak again at a future event.
…………….
SEPTEMBER 2011 – THE SOCIETY IS LAUNCHED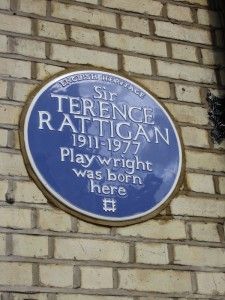 On Sunday 11th September, 2011, the Society was launched at Terence Rattigan's birthplace, 100 Cornwall Gardens, London SW7 4BQ.  The Chairman and Founder, Barbara Longford,  gave the following speech of welcome.
"Good afternoon, ladies and gentlemen.  What a pleasure it is to welcome so many founder members of our new Society at our first event.
It is so moving to think that Sir Terence was born here on the 10th of June one hundred years ago and I would like to say 'thank you' on everyone's behalf to Mrs Junko Tarrant for allowing us to use these elegant surroundings for our celebration and for all her kindness and help to the Society.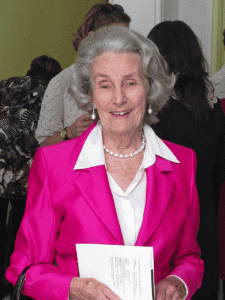 Today we are fortunate indeed to have with us several people who knew Terence Rattigan well, including Princess George Galitzine.  As the young model Jean Dawnay,  the Princess was his great friend, hostess and muse and indeed she was the inspiration for the character of Anne Shankland in Separate Tables. We also have the Society's Vice Presidents, Terence Rattigan's biographers – Michael Darlow and Geoffrey Wansell, each of whom has done so much to keep the Rattigan flame burning in recent years. I'd like to thank Naim Attallah and Quartet Books for making copies of  Michael's book available today,  but rest assured that at a future event Geoffrey Wansell's  moving 1995 biography will also be available for members.
It's lovely to have Adrian Brown with us.  As you all probably know, Adrian's production of 'Less Than Kind' at the Jermyn St Theatre in February got the centenary year off  to such a good start and he was of course a very close friend of Sir Terence.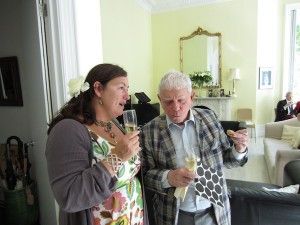 James Cellan-Jones was the director of Terence Rattigan's film, 'Bequest to the Nation' and I understand that during the production the two men became great allies and friends.  And Michael Imison was his agent and the person who encouraged the BBC to commission Rattigan to write a play for radio, in 1975, which became 'Cause Celebre'.  Elena Salvoni of Elena's Etoile, is another friend from the days when she ran the Bianchi Restaurant, where Sir Terence was a regular visitor.  And Philippa Comber is a relative  – Sir Terence's second cousin, or cousin once removed;  we are not quite sure which it is."
Giles Cole, the Editor of the Society, presented Princess George Galitzine with a scroll marking her Presidency of the Society.  The event was enhanced by the playing of Samuel Joseph, who played music of the 1930's, 40's and 50's, on Mrs Tarrant's Grand Piano.
…………….