2013 Events
---
SATURDAY 9TH NOVEMBER, 2013.  Visit to The Browning Version & Harlequinade at St. Peter's Church, Notting Hill Gate and supper at the Notting Hill Kitchen with Annual General Meeting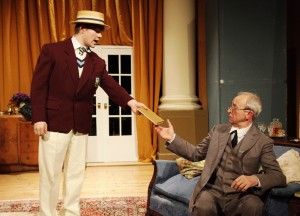 Thirty members attended an amateur production of the two plays, known originally as 'Playbill', performed by The Ladbroke Players,  who donated all the profits to the charity Mencap.  The Browning Version was directed by Andrew Kenyon, who is the Treasurer of the Society and Harlequinade directed by Society member Alison Du Cane.  The performance took place in the beautiful Victorian Anglican church, which was completed in 1857.  Members were impressed by Andrew's moving production with particularly fine performances by Geoff Leavey in the central role and Merlin Beyts as Taplow.  Alison's production of Harlequinade had style and pace and members welcomed the opportunity to see this rarely performed piece.  As well as directing, Alison played the leading lady role (Juliet) with great verve, matched most appropriately with a fine performance by her husband, Leslie Du Cane, in the role of actor manager (Romeo).
After the performance we had an early supper in a private room at the restaurant next door to the church and were joined for the meal by Adrian Brown.  Clive Montellier , the Secretary of the Society, chaired the Society's second Annual General Meeting just prior to the meal.
…………….
THURSDAY 3RD OCTOBER, 2013.  A VISIT TO THE KING'S HEAD THEATRE, ISLINGTON, FOR 'A TALE OF TWO CITIES', ADAPTED FOR THE STAGE BY TERENCE RATTIGAN AND JOHN GIELGUD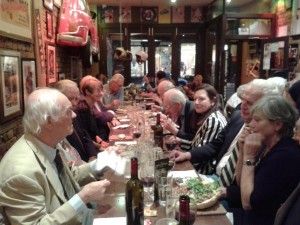 This was the professional world premiere of the play, taking place nearly 80 years after it was written.  Michael Darlow commented that  "it contains interesting insights into the mood of the period in which that adaptation was made as much as into the mood in Britain at the time when Dickens wrote the original novel. Also it gives an insight in Rattigan's mindset at the time and one can already detect some of his characteristics as a writer of stage dialogue.  Rattigan wrote most of the dialogue while Gielgud did the construction and break down of the book into the outline of a play".
The director Adam Spreadbury-Maher had also edited the play and presented it with a cast of eight.  The text is published by Samuel French Ltd.  ISBN 978-O-573-11437-3.
Thirty nine members had booked to see the production with the Society and thirty five members had an early supper at a nearby Italian Restaurant, La Divina.  We were joined there by Major General Derek Crabtree, who had taken the part of Sydney Carton in the first performance of the play at St. Brendan's College Dramatic Society, in 1950.  We were also joined by Vice President Michael Darlow and by Lee Penhaligan, Chairman of the Sir Terence Rattigan Charitable Trust.
Adam Spreadbury-Maher's was a fast-paced, inventive and modern production which many of us enjoyed enormously.  After the performance Michael Darlow chaired a discussion with Adam and members of the cast.
…………….
MONDAY 15th JULY, 2013
AN EVENING ON TERENCE RATTIGAN WITH PRINCESS GALITZINE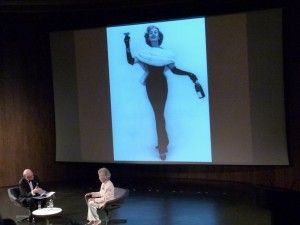 Society members presented a V & A members' evening in the Lecture theatre at the Victoria & Albert Museum.  The event was given excellent pre-publicity in the V & A magazine, which is sent out to its 30,000 + members.  TRS members were also invited to attend.
Almost 200 people gathered in the Lydia & Manfred Gorvy Lecture Theatre, which was originally completed in 1869 and which forms part of the V & A's Grade 1 listed building status.  The evening began with an interview with our President, Princess George Galitzine, MBE speaking to Vice President, Geoffrey Wansell.  As a backdrop to the interview, photographs were projected showing the Princess in her modelling days, when she was known as Jean Dawnay.
After the interview, Geoffrey Wansell talked about Terence Rattigan and his career and this was illustrated by readings from 'In Praise of Love' read by Stephen Martin-Bradley and Judy Buxton; 'The Browning Version' read by Geoffrey Wansell, Stephen Martin-Bradley and Judy Buxton; 'The Deep Blue Sea', with Stephen Martin-Bradley as Jackie and Giles Cole as Freddie;   and ' Separate Tables' with Judy Buxton and Giles Cole.  The event concluded with Giles Cole reading from his own play 'The Art of Concealment' about Terence Rattigan.
The Vote of Thanks was given by  Kate Dorney, the Curator of Modern and Contemporary Performance at the museum.  Afterwards everyone gathered for a very jolly drinks reception in the Silver Galleries.  TRS membership leaflets were handed to all non-members attending.
…………….
SATURDAY 27th APRIL, 2013
A SECOND TREE PLANTING AT SANDROYD SCHOOL
Our President, Princess George Galitzine, MBE was invited by the Headmaster of Terence Rattigan's former prep school to plant a tree in his memory in the school grounds.  This event was featured on the front page of the Society's magazine – The Rattigan Version, issue no. 7, which is featured elsewhere on this website.
…………….
Wednesday 10th April, 2013 – MASTERCLASS AT ROSE BRUFORD COLLEGE
'Trained at Rose Bruford' leaps out of many an actor's biography in glossy West End programmes – and here we were, on a wet evening in early April, at the College
in Sidcup. Four students were there to work on two short scenes from The Winslow Boy and The Sleeping Prince, directed by our very own Adrian Brown, acclaimed
director and writer, close friend of the playwright, and founder member of our Society, whose own career in theatre and television spans over 50 years.
The masterclass is a stimulating vehicle and came to prominence perhaps in the musical world – Tortelier with his cello, Geraint Evans on opera, Barenboim with
the Beethoven sonatas. It works in three ways: for players, who can respond to an expert and build a performance; for an audience, to eavesdrop on this privileged
process; and for a director, to provide insight, experience and anecdote and thereby inform, educate and entertain. In this Adrian excelled.
He began with a very informative tour d'horizon, setting Rattigan in the context of style, unashamedly middle-class values, French windows and panelled parlours. He emphasised that the repression and imprisonment of emotion can set the stage for dramatic tension, and that it still has a place in life to this day; it makes
the Rattigan plays forever fresh and perhaps helps to explain the revived and continuing interest in them.
Our students, one suspects, were not naturally attuned to the Rattigan world in style and movement and they responded well – even gratefully – to Adrian's encouragement. It might have helped to get to the heart of the matter if a modest gesture away from the standard student garb of jeans and t-shirts had been made; nevertheless, the exchanges in both scenes were revealing and improved significantly as Adrian subtly shaped them. First was the scene where Kate Winslow reveals her former fiancé's engagement to a General's daughter, and then we had the famous seduction scene from The Sleeping Prince. The evening was arranged by our drama school liaison committee member, Lizzie Donnelly, in conjunction with the College's Associate Director of Research, Dr Paul Fryer.
It concluded with a glass or two of wine and a chance for discourse with the director and performers. This was a highly enjoyable and informative occasion, and an insightful glimpse into the intimacy and working methods of a professional theatre rehearsal. Let us hope that more drama schools such as Rose Bruford and
Central may be persuaded to essay full length Rattigans for our delight.
…………….
Saturday 6th April, 2013 – Visit to The Winslow Boy at The Old Vic and Dinner at La Barca Restaurant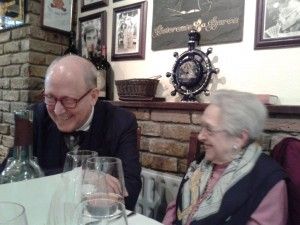 On 6th April, 50 members and their guests attended a matinee of Lindsay Posner's superb production of The Winslow Boy at the Old Vic.  Everyone enjoyed it enormously.  Lloyd Evans in the Spectator began his review with "Thank God for The Winslow Boy.  Terence Rattigan's masterpiece" and ended with "Let's not forget the script which, line by line and beat by beat, is an absolute miracle of dramatic craftsmanship.  Not the least of Rattigan's achievements is to take the full span of a long-running and mutilayered court case and to condense the significant details into conversations conducted in a family sitting-room.  Astonishing.  With The Judas Kiss due to close, this show takes its place as the best play in London."  Thirty one of us dined later at a nearby family-run Italian restaurant, La Barca.  Vice President, Geoffrey Wansell, welcomed everyone. The food was excellent, the members' company scintillating and the stylish Italian waiters gave great service.  Elena Salvoni was the star and was feted by the waiters, who know her to be is a legend in the catering business.  Treasurer, Andrew Kenyon, thanked Barbara Longford for arranging another happy evening in the Society's calendar.
…………….
Wednesday 27th March, 2013 – Visit to The Deep Blue Sea at the Bridewell Theatre and Supper at The Punch Tavern in Fleet Street
On 27th March 32 members attended the Tower Theatre Company's amateur production of The Deep Blue Sea at the Bridewell Theatre, near the journalists' church in Fleet Street. The star of the show was TRS member Jane Dodd, an Olivier Award-winning actress who trained at the E15 Acting School and the Meisner Centre, LA.  It was an interesting production, with mixed performances but Jane carried the central role of Hester Collyer with style.  It was a bitterly cold evening, but fortunately our a pre-theatre supper at the nearby Punch Tavern consisted of good solid comfort food, which went down a treat.  We had a private room in the pub and the atmosphere was jolly and warm.  A most successful and fairly inexpensive evening.
…………….
Saturday 19th January 2013 – SOCIETY NEW YEAR LUNCH at LITTLE ITALY in Frith Street, Soho
Despite the inhospitable weather, over 40 Society members gathered at Little Italy Restaurant inLondon's Soho to enjoy a three-course lunch hosted by legendary maître d' Elena Salvoni MBE, who is a founder member of The Terence Rattigan Society and known to many as "the Queen of Soho and friend to the stars".
Members were welcomed by Chairman and Founder of the Society, Barbara Longford, who welcomed our distinguished guests: our hostess, Elena Salvoni, our Vice President, Geoffrey Wansell, Adrian Brown, theatre director and friend of Sir Terence and several new members who were attending their first event. She presented apologies from our Vice President, Greta Scacchi, who had been prevented from joining us by the bad weather and need to catch a plane to Milan that evening.
Vice President, Geoffrey Wansell, then spoke about our hostess.  Elena's long career has spanned eight decades, starting, at the age of 14, at Café Bleu in Soho before taking over at Bianchi's (on the site of what is now Little Italy), where she worked for 30 years.   Elena knew Sir Terence well and served him many meals at Bianchi's'.  Aged 65, Elena tried to retire, but her talents were so much in demand she continued to work for more than another two decades, first at L'Escargot and finally at a restaurant named in her honour, Elena's L'Etoile in Charlotte Street.  Geoffrey asked us to raise a glass and toast Elena.
After the main course, Elena herself, entertained the company with tales about her relationship with Sir Terence.  She pointed out his favourite position in the restaurant when he was on his own and the table by the window where he frequently sat when in the company of friends.  She described how she was able to provide him with toast done "just how he liked it – done on both sides!" She also told us how, at that time, Joe Orton lived next door to her and she knew him well.  One day he came to her very upset: he did not want to ring from the payphone at The Angel tube station because he did not want to let Terence Rattigan know he was using a public phone – he didn't think the famous playwright would be very impressed by the sound of feeding coins into the box.  He made the call from Elena's phone and the subsequent conversations led to the first production in 1964 of Entertaining Mr Sloane.
At the end of the lunch, Group Captain Clive Montellier, Secretary to the Society, gave a vote of thanks and Elizabeth Donnelly, responsible for Drama School Liaison in the Society, informed members that she was very pleased to say that there would be a second Masterclass on Terence Rattigan – led by Adrian Brown – at Rose Bruford College of Theatre and Performance, Sidcup Kent taking place in April 2013.
…………….