2015 Events
---
SATURDAY 5 DECEMBER 2015: Visit to Harlequinade and All On Her Own at the Garrick Theatre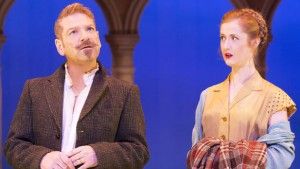 Members and their guests had a special treat after the matinee performance of this newly-paired Rattigan double-bill – Sir Kenneth Branagh and fellow cast member Tom Bateman gave up some of their rest time between performances to come and meet us in the stalls and answer questions about the two plays we had seen. This was a lively session, and much appreciated by members and guests. We were intrigued by the choice of curtain-raiser in staging a monologue originally written for television, and originally performed by Margaret Leighton. Here Zoë Wanamaker gave us a telling and poignant insight into a woman trying to understand the death of her husband and, indeed, her life with him. Harlequinade revealed Branagh as a consummate comedian in a wonderfully funny backstage play gently parodying the famous theatrical couple, the Lunts, who had taken Rattigan's play Love in Idleness and reshaped it to suit their personalities. Harlequinade has a storyline – the reappearance of a lost daughter – which is reminiscent of The Winter's Tale, the other current play in the Branagh repertoire, and indeed the play was originally entitled Perdita. If not in the same league as Rattigan's greatest plays, this double-bill provided a thoroughly entertaining afternoon, after which members and guests strolled a little further up Charing Cross Road to enjoy a relaxed supper.
…………..
SATURDAY 28TH NOVEMBER, 2015. Society's AGM, rehearsed reading of 'Follow My Leader' and dinner at the Oxford & Cambridge Club.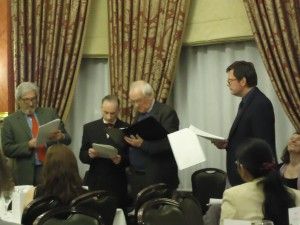 On 28 November, members of the Society met for their Annual General Meeting and dinner in the superb surroundings of the Oxford and Cambridge Club, courtesy of our host, Society member Denis Moriarty. As has become our tradition, the formal business of the Meeting took up very little of the evening, and we used the opportunity to take advantage of an offer from founder member, Adrian Brown, to direct a rehearsed reading of one of Terence Rattigan's rarely-performed pre-War plays, 'Follow My Leader'. Cast entirely with volunteers from amongst the Club's members, the reading made an excellent start to an evening which, graced with the presence of our President, Princess George Galitzine, featured an excellent meal and the chance to tour the home of this long-established historic Club.
…………….
SATURDAY 5TH SEPTEMBER, 2015.  Group visit to 'Flare Path' at the Richmond Theatre and supper at The Duke in Duke Street.
Twenty six members attended the matinee performance of the new professional production of 'Flare Path' by the Original Theatre Company.  As Dominic Cavendish said in the Daily Telegraph, this production was "not in the same league" as Trevor Nunn's production which played during the centenary year at the Haymarket Theatre.  Nevertheless, the play came across beautifully and was deeply moving.  Alastair Whatley (the company's Artistic Director) gave a fine performance as Teddy and Siobhan O'Kelly gave a poignant portrayal of Countess Skriczevinsky (Doris).
Afterwards, 17 members had an early supper at a nearby pub/restaurant and we were joined by Honorary Member, the actress Judy Buxton and her husband Jeff Holland.  It was a jolly and pleasant occasion.
…………….
SATURDAY 6TH AND SUNDAY 7TH JUNE, 2015. "In the Footsteps of Rattigan" – a celebration of the work of Terence Rattigan at Trinity College, Oxford.
Some 70 members attended the first ever conference on the work and life of Terence Rattigan at his alma mater, Trinity College Oxford.  The first day began with a walking tour of the college and grounds and the first session was given by Vice President Geoffrey Wansell, who described TR as 'The True Genius of Twentieth Century English Theatre'. 
Other speakers included Dr Holly Hill, Professor Dan Rebellato, Alan Brodie, Michael Imison and Michael Darlow.
The Society had sponsored 10 drama students from around the UK to attend and to participate in a Masterclass, led by Ian Flintoff.  Also the Trinity Players (first year college students) gave a reading of 'First Episode' written by TR during his time at the college, led by Michael Roderick.
Our Banquet dinner was a short one as the Trinity Players were performing on the lawns on Saturday evening and delegates enjoyed their production of 'Hay Fever'.  Despite the short time,  Michael Imison was able to share with us, over dinner, his personal recollections of meeting Sir Terence.  After lunch on Sunday Denis Moriarty led a walking tour of central Oxford.
…………….
SATURDAY 14TH MARCH, 2015, RATTIGAN ON SCREEN, a tour of the Cinema Museum and Screening of 'Separate Tables', 1958.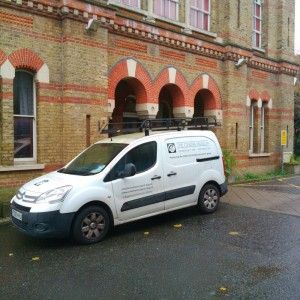 London's Cinema Museum is devoted to keeping alive the spirit of cinema. Set in historic surroundings in the former Lambeth Workhouse, Kennington, close to the Elephant & Castle, the Cinema Museum houses a unique collection of artefacts, memorabilia and equipment that preserves the history and grandeur of cinema from the 1890s to the present day, including items relating to former Workhouse inmate, Charlie Chaplin.
Our visit included a tour of the Museum collection, followed by screening of the 1958 film 'Separate Tables' a Hecht-Hill-Lancaster (as in Burt) Production, directed by Harold Hecht, with screenplay by Terence Rattigan and John Gay. The film has the following cast:-  Deborah Kerr as Sibyl Railton-Bell, Rita Hayworth as Ann Shankland, David Niven as Major Pollock, Wendy Hiller as Mrs Cooper, Burt Lancester as John Malcolm and Gladys Cooper as Mrs Maude Railton Bell.  David Niven won his only Oscar for this part.
Twenty-seven members attended this most unusual and stimulating event, which was preceded by lunch in a private room at the nearby Brasserie Toulouse Lautrec.  The event was hosted by the Society's Secretary, Group Captain Clive Montellier, who welcomed several new members to the event and to the Society.
…………….