2016 Events
---
SATURDAY 3rd DECEMBER, 2016.  Visit to The Cinema Museum in Lambeth for screening of 'The Sound Barrier', interview with Liz Fraser and lunch at Brasserie Toulouse Lautrec
TRS Secretary Group Captain Clive Montellier (Monty to his friends) hosted this event at the Cinema Museum, situated in the former workhouse where Charlie Chaplin spent some time as a boy.  Twenty five members and their guests attended and our Guest of Honour was the actress Liz Fraser well known for her roles in 'Carry On' films, but who has also appeared in a television version of 'Man and Boy' with Telly Savalas and on stage in the role of the Countess in 'Flare Path'.  Liz talked to Monty about her career, accompanied by some relevant film clips.  Another star of stage and screen joined us – TRS member Peggy Cummins.  After a tour of the museum, led by Curator and TRS member Martin Humphries, we watched 'The Sound Barrier' the David Lean film from 1952, of which Terence Rattigan wrote the story and the screenplay. We agreed that this was one of the finest British films ever made.   This event was preceded by a jolly lunch in a private room at a nearby Brasserie and the French owners allowed Liz's dog, Brodie, a basset hound to join us for this occasion.
…………..
SATURDAY 5th NOVEMBER, 2016.  Visit to St. Peter's Church, Notting Hill Gate for a performance of 'The Winslow Boy' by The Ladbroke Players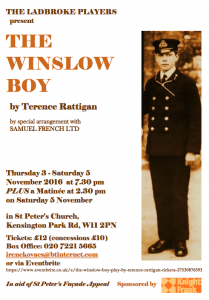 Twenty members attended a performance of The Winslow Boy, by the renowned amateur theatre company, The Ladbroke Players, a well-established and popular local group.  This was a charitable performance and all proceeds were donated to the St. Peter's Façade Appeal.  The play was directed by TRS member, Alison Du Cane, who also shone in the role of Violet.  It was a very moving production which brought tears to many an eye in the audience.  Dan Draper was a superb Sir Robert Morton, KC.  Dan hoped that having attended Rattigan's old school (Harrow) might inspire his performance. Indeed it did.   Misia Butler, in his final year at Latymer School, was utterly convincing in the role of Ronnie and Elspeth North was perfect as Catherine.  But this was very good all round ensemble playing and a highly enjoyable afternoon.
Members then had dinner in a private area of the nearby restaurant, Meditteraneo, where TRS Secretary, Clive Montellier, chaired our Annual General Meeting.  As usual this was a professional, but brief and pleasant affair.  All existing Committee members were re-elected.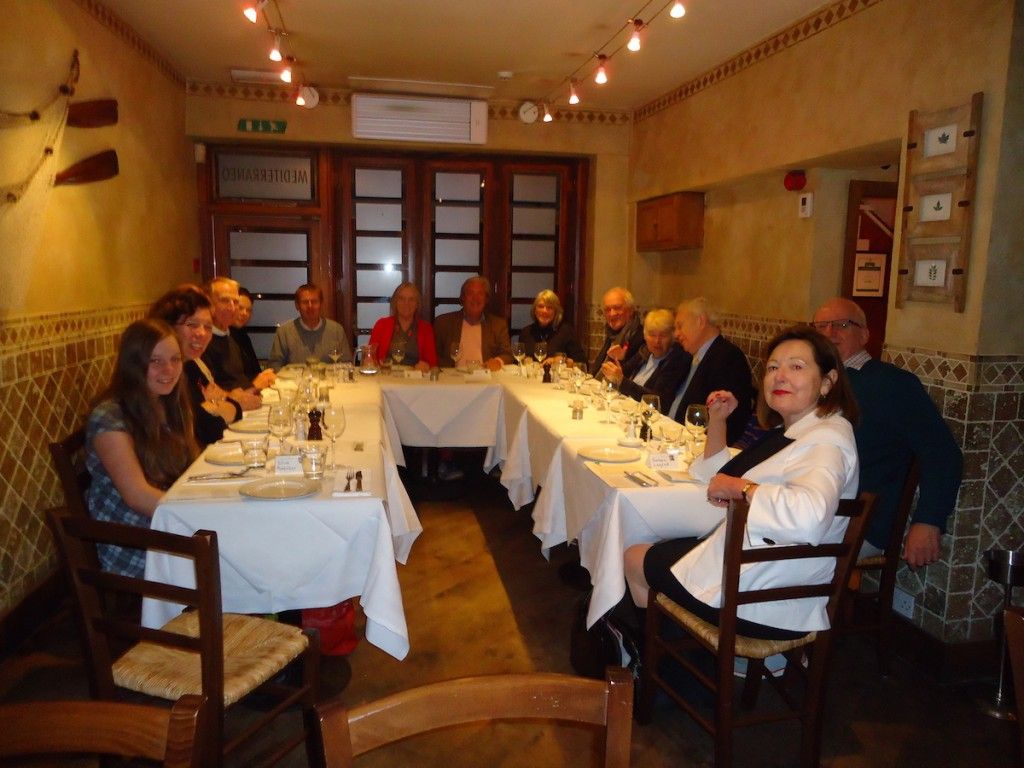 …………..
SATURDAY 30TH JULY, 2016.  Visit to The Theatre Royal, Bath for a performance of 'While the Sun Shines
Twenty one members travelled to Bath for a scintillating production of Terence Rattigan's 1943 smash hit play 'While the Sun Shines'.  We had a very jolly lunch in a private room at The Garrick's Head public house adjacent to the theatre and then attended the final matinee performance.  The reviews had been excellent and we were not disappointed.  Rob Heaps was a superb Earl of Harpenden and Alexandra Dowling was perfection as Lady Elizabeth Randall.   The entire ensemble playing was terrific.  Afterwards the TRS group stayed on in the theatre and we were joined by Christopher Luscombe, the director, who gave the members a question and answer session.  This was hugely enjoyable and our Vice President, Michael Darlow, was able to attend this performance and join us for the Q & A.
(Images from TheatreRoyal.org.uk)
…………..
WEDNESDAY 6TH JULY, 2016. ANNUAL BIRTHDAY DINNER AT THE GARRICK CLUB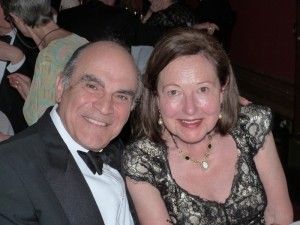 Sixty members and guests joined us for the Annual Birthday Dinner at The Garrick Club, hosted by Giles Cole.  Two of our Vice Presidents attended – Greta Scacchi and David Suchet  CBE and the Guest of Honour and Guest Speaker was journalist, broadcaster and historian Simon Heffer.  The dinner took place is the Milne Room, but as the event was over-subscribed we also used the Private Dining Room, which was hosted by Denis Moriarty.
Barbara Longford and Giles Cole gave the welcome speech followed by the Toast to Sir Terence Rattigan CBE, by David Suchet CBE.
After dinner, Simon Heffer spoke movingly about the films for which Terence Rattigan had written the screenplay.  Denis Moriarty gave the Vote of Thanks.
…………..
SATURDAY 18th JUNE, 2016. 'The Deep Blue Sea at the National Theatre & supper at The House Restaurant. 
Thirty members joined us for the highly acclaimed production of The Deep Blue Sea at the Lyttelton Theatre.  The Society had obtained reduced price stalls seats, by making a block booking.  Whilst members greatly enjoyed the production, they thought that the Lyttelton stage was too large to for this particular play.  We were pleased that our member from the Massachusetts, USA, Cynthia Lacey, was able to join us on this occasion.  Afterwards, 25 of us had an early supper at The House restaurant at the National Theatre.  This was a happy and jolly occasion.
…………..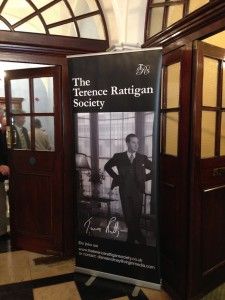 TUESDAY 19TH APRIL, 2016. 'Rattigan on Film'
This event took place at The Garrison, a public house with a special screening room and private dining room. The Garrison is in an up and coming part of Bermondsey, next door to the Fashion and Textile Museum and it proved to be an excellent venue for a low-cost but highly enjoyable event. This was hosted by Clive Montellier, who showed extracts from 'The Yellow Rolls Royce', whilst we were dining. After dinner we watched the 1953 film 'The Final Test', scripted by Terence Rattigan, directed by Anthony Asquith and starring Jack Warner and Robert Morley. Twenty members attended and the Society hopes to arrange future screenings here.
…………..