2016 Events
---
Latest 2016 Events:
SATURDAY 18th JUNE, 2016. 'The Deep Blue Sea at the National Theatre & supper at The House Restaurant. 
Thirty members joined us for the highly acclaimed production of The Deep Blue Sea at the Lyttelton Theatre.  The Society had obtained reduced price stalls seats, by making a block booking.  Whilst members greatly enjoyed the production, they thought that the Lyttelton stage was too large to for this particular play.  We were pleased that our member from the Massachusetts, USA, Cynthia Lacey, was able to join us on this occasion.  Afterwards, 25 of us had an early supper at The House restaurant at the National Theatre.  This was a happy and jolly occasion.
…………..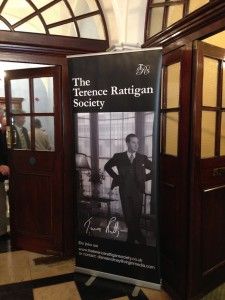 TUESDAY 19TH APRIL, 2016. 'Rattigan on Film'
This event took place at The Garrison, a public house with a special screening room and private dining room. The Garrison is in an up and coming part of Bermondsey, next door to the Fashion and Textile Museum and it proved to be an excellent venue for a low-cost but highly enjoyable event. This was hosted by Clive Montellier, who showed extracts from 'The Yellow Rolls Royce', whilst we were dining. After dinner we watched the 1953 film 'The Final Test', scripted by Terence Rattigan, directed by Anthony Asquith and starring Jack Warner and Robert Morley. Twenty members attended and the Society hopes to arrange future screenings here.
…………..