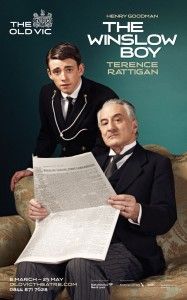 Terence Rattigan's pursuit of justice, 
The Winslow Boy
, will open at The Old Vic on 19 March 2013 with previews from XX March.  Directed by Lindsay Posner, Rattigan's powerful play is based on the true story of a father's fight to clear his son's name when he is expelled from Naval College after being convicted of theft.
First staged in 1946, the battle between personal principles and conscience and an impenetrable establishment under the media spotlight makes The Winslow Boy as relevant today as it was then.
Fri 8 March – Sat 25 May 2013
Previews: 8-18 March; Press Performance: 19 March at 7pm
Mon–Sat 7.30pm; Wed & Sat 2.30pm
[Please note there are no matinee performances on Sat 9 Mar, Wed 13 Mar or Wed 20 Mar.
There is a matinee performance on Thu 21 Mar at 2.30pm.]
Post Show Discussion: Mon 22 April
TICKETS: £11, £16, £21, £28, £40, £50
Box Office: 0844 871 7628
A Centenary Service of Celebration for the life and work of Sir Terence Rattigan, CBE and Tree Planting by David Suchet, CBE
St. Paul's Church, Covent Garden (The Actors' Church)
Tuesday 22nd May, 2012, at 11.a.m.
The Sir Terence Rattigan Trust and The Terence Rattigan Society have arranged a special service in The Actors' Church to mark the centenary year, which ends on Terence Rattigan's birthday, 10th June.
Artists and writers speaking at the service are David Suchet, Greta Scacchi, Sir Ronald Harwood, Simon Williams and Adrian Brown.  Charlotte Page will sing a Puccini aria and Simon Green will sing 'Avalon', used by Rattigan in his 1939 play 'After the Dance'.
Following the service, David Suchet will plant a Sorbus tree in Terence Rattigan's memory, in the church garden.  The service will be attended by Princess Galitzine, the former Dior model Jean Dawnay, who was Rattigan's friend, hostess and muse as well as many other former friends and colleagues.
To apply to attend the service and the planting, please contact The Terence Rattigan Society at info@theterencerattigansociety.co.uk.
If you would like to become a member of the Society and attend other events and receive our newsletter, please contact:-
Diana Scotney
Tel: 01462 623941