Society News 2019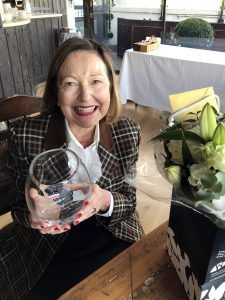 Barbara Longford (above), the founder and Chairman of the Rattigan Society since 2011.  Barbara stepped down as Chairman at the recent AGM – read her Chairman's Report which includes highlights of Society events since 2011 here  Chairman's report – AGM
The Society's AGM, play reading and buffet lunch was held on Saturday, 30th November at Doggetts Coat and Badge in London.
The AGM was the Society's opportunity to thank Barbara Longford who stepped down as Chairman and celebrate the enormous amount of work, energy and dedication she has given to the Society.  She founded the Society in 2011 and since then has been planning and arranging most of the events over the past eight years.  Barbara reported on the highlights of the many exciting events that have taken place since the Society's inception.
The play read was Wrong Move by Peter Briffa, directed by Michael Gaunt and performed by Giles Cole and Martin Amherst Lock.   Wrong Move was submitted for The TRS Award and was considered to be outstanding by our readers. It involves a chess-master, Temple, who is annoyed at what he sees as an unfair portrait in a new novel and so entices the author, Ogden, to a basement where he confines him with release only possible if he wins a game of chess. Through interminable games the relationship between the two is explored.  We were pleased that Peter Briffa was able to join us for the reading and lunch.
The Society has recently joined the Alliance of Literary Societies – do visit their website: allianceofliterarysocieties.wordpress.com and in particular the publications area where you will find newsletters and copies of the ALS journal ALSo.  The Autumn 2019 Newsletter from the ALS is now available on their website.
Two events were held at the British Library on Tuesday 17th September.  Both events were hosted by Society member Professor Dan Rebellato.
At the first event called 'Show and Tell' Professor Rebellato and a British Library Curator enabled Society members to see and handle some of the early drafts of Rattigan's most famous plays, letters, cuttings files and more.
At the second event called 'Craftsman at Work!  Secrets from the Rattigan Archive' Professor Rebellato, who has worked in the Rattigan Archive for over twenty years, gave an illustrated lecture with a glimpse into what the Archive can tell us about Rattigan's process, his craft and his theatre.