The Browning Version and Harlequinade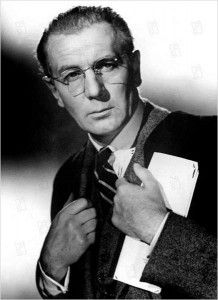 The Ladbroke Players
invite you to their latest productions …
The Browning Version and Harlequinade
by Terence Rattigan
(by arrangement with Samuel French Ltd)
The Society has organised a group visit to an amateur matinee production at 2.30 p.m. on Saturday 9th November.  Please click here for a booking form for TRS members.
The Ladbroke Players have produced plays in Notting Hill for over 30 years – sometimes at St John's, but mainly at St Peter's Church, Kensington Park Road, London W11 2PN, where this production is taking place. They have presented comedies, tragedies and dramas ranging from classics by Shakespeare, Chekhov and Ibsen to contemporary Coward, Stoppard and Wilde.
The Browning Version is one of Terence Rattigan's most famous plays.  It tells the story of an unpopular and unloved public school classics master.  Cuckolded by his wife and on the verge of retirement, Crocker-Harris finds a form of redemption in an unexpected parting gift from a previously unregarded pupil – a second-hand copy of Robert Browning's version of the Agamemnon.
Harlequinade was written to accompany The Browning Version and they were first produced in 1948 as a double-bill entitled Playbill, with Eric Portman and Mary Ellis in leading roles.  Set in the bygone era of touring repertory theatre companies in post-war Britain, Harlequinade is a frothy and light-hearted farce.  Leading man Arthur is horrified when his hitherto unknown daughter appears as he is about to go on stage to play Romeo.  Has he committed bigamy?   Will long-suffering stage manager Jack ever find time to marry fiancée Joyce?  And who will play 1st Musician?
The Browning Version is directed by Andrew Kenyon, Treasurer of The Terence Rattigan Society,  who directed the first production of The Ladbroke Players – Tobias and the Angel – in 1983.  Harlequinade is directed by another TRS member, Alison Du Cane, following her previous productions Pygmalion, The Accrington Pals, Separate Tables and Lady Windermere's Fan.  Performance dates are Thursday 7th November – Saturday 9th November at 8pm, with a matinee  performance on Saturday 9th at 2.30pm, which TRS members are attending.  Profits raised by performances will be donated to Mencap.
If you are not a member of The Terence Rattigan Society, then tickets can be booked by contacting:
Irene Kovacs, 2d, Hedgegate Court, Powis Terrace, London W11 1JD.
Telephone: 020 7221 5665
E-mail: Irenekovacs@btinternet.com