Welcome
---
THE TERENCE RATTIGAN SOCIETY AWARD FOR A NEW PLAY
The first performances of the award-winning play 'The Onion at the End' by Roy Kendall, took place in February 2018 at The Sarah Thorne Theatre in Broadstairs, directed by Michael Friend. Here is the cast (from Left to Right)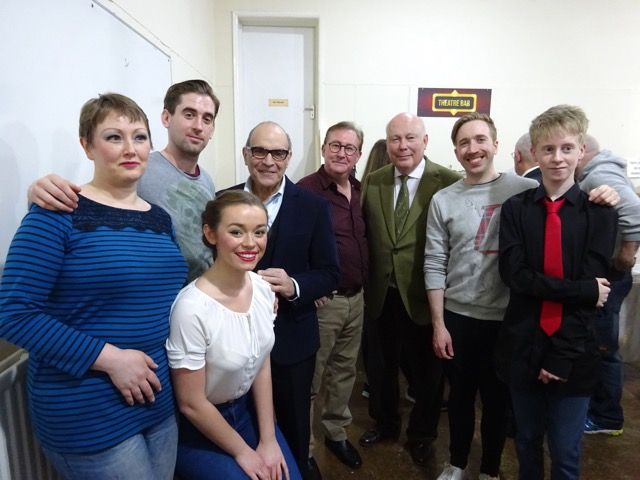 From Left to Right: Lainey Shaw, Edward Broomfield, Johanna Pearson-Farr (TRS President, David Suchet) Clive Greenwood, (TRS Vice President, Julian Fellowes), Stephen Martin-Bradley, and Edward Bloomfield (aged 14) making his professional debut.
Please Click Here for details of all seventeen final plays, which The TRS would like to recommend for future production.
---
The Terence Rattigan Society
President: David Suchet, CBE.
Vice Presidents:  Michael Darlow, The Lord Fellowes of West Stafford, DL, Dr Holly Hill, Greta Scacchi, Geoffrey Wansell
Chairman:  Barbara Longford
The Terence Rattigan Society was founded in Sir Terence Rattigan's centenary year, 2011,  to celebrate, enjoy and study the work and life of one of the Twentieth Century's greatest playwrights.  A prolific and successful author of plays and film scripts,  Terence Rattigan's most celebrated works include 'French Without Tears', 'The Winslow Boy', 'The Browning Version', 'The Deep Blue Sea', and 'Separate Tables'.
BENEFITS of membership include:
A regular printed copy of the dedicated magazine, with articles by leading playwrights, biographers and critics, as well as theatre listings and news and views.
Visits to the leading drama schools for Rattigan productions, by talented young students.
Masterclasses for students both young and mature, arranged in cooperation with the drama schools.
Theatre visits at discount prices, with optional suppers and an opportunity to meet like-minded people.  Discussions with cast members and directors.
Opportunities to visit Rattigan's home at Albany and his birthplace in Cornwall Gardens.
Events at The Garrick Club, courtesy of its historian, Geoffrey Wansell.
Opportunities to attend events at Rattigan's former school, Harrow and to explore their Rattigan archive.
Opportunities to visit RAF sites with a Rattigan resonance, with film screenings and supper.
Walking tours of areas where Rattigan lived and worked.
The Society was founded in 2011 with the support and approval of The Sir Terence Rattigan Charitable Trust and also of his biographers, Michael Darlow and Geoffrey Wansell.
Latest News
Last modified on 2018-04-06 11:52:02 GMT. 0 comments. Top.
The Richmond Theatre, Little Green, TW9 1QJ
THE WINSLOW BOY
2.30 p.m.  Matinee
This is a new production by Mark Goucher Productions Limited.  Directed by Rachel Kavanaugh, the leading players are Tessa Peake-Jones as Grace and Aden Gillett as Arthur. The play is touring the country, beginning at the Chichester Festival Theatre in February.  The Society has made a block-booking with a price reduction of £28 for best stalls seats.
The exquisite Richmond Theatre opened in 1899 with a performance of As You Like It and is one of the finest surviving examples of the work of theatre architect Frank Matcham.  The building, in red brick with buff terracotta, is listed Grade 11* by Historic England.  John Earl, writing in 1982, described it as: "Of outstanding importance as the most completely preserved Matcham theatre in Greater London and one of the most satisfying interiors."
and an optional post-theatre
SUPPER at The Duke Public House (with a complimentary glass of prosecco)
5.p.m.  2, Duke Street, TW9 1HP
The Duke is situated just around the corner from the theatre and members had supper there in 2015, after a performance of Flare Path.  The food and service is excellent and good value.  The average price of a starter is £6.50 and a main course £15.  The house wine is £18 a bottle.  You will receive the menu choices later and we shall need to pre-order.  Members will pay for the meal individually on the evening.
Download the Booking Form/Flyer Here
For News, click here.