Welcome
---
HUGE RESPONSE for The Terence Rattigan Society Award for a new play for the theatre.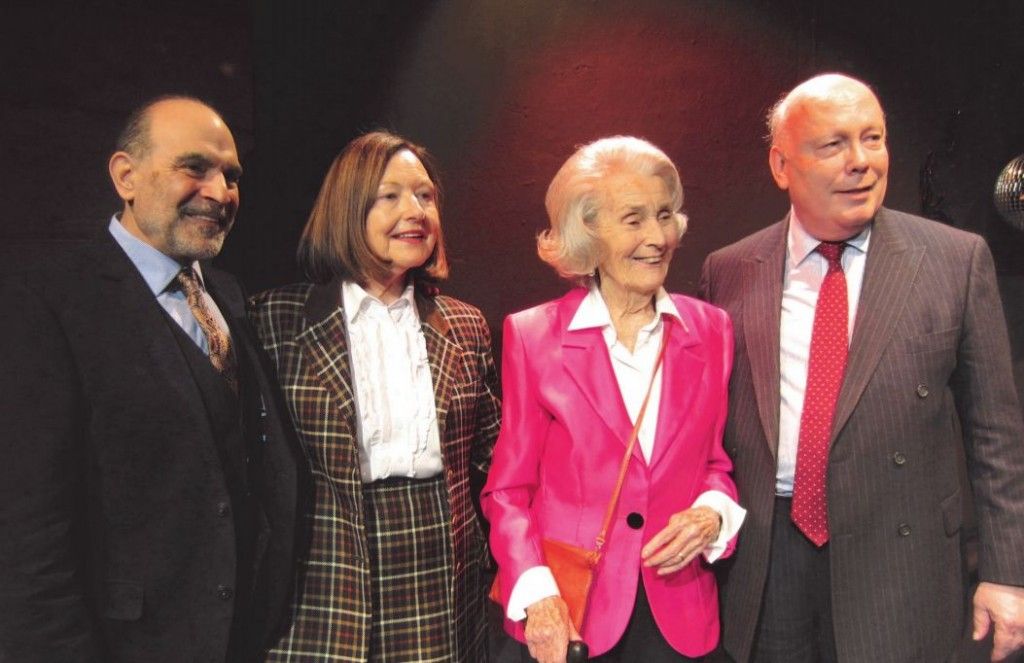 Update – October, 2016.
The Society is delighted to announce that by the closing date (end of August 2016) one hundred and ninety seven (197) scripts had been submitted for this award. Seven of these scripts were ineligible as they did not fit the criteria set out by the Society in the published rules.
We are now considering 190 scripts submitted from all over the UK. All scripts received have had an electronic acknowledgement and most of these 190 scripts have been sent out, anonymously, to two separate readers. When all the reports have been received, a longlist of plays will be sent on to a third reader.
The standard of submissions has been extremely high. To date thirty seven scripts have already been identified as having potential and will be read by a third reader and in addition many scripts have not yet been reported on by two readers.
The 20 best plays will go on to the next stage and eventually a shortlist of three plays will be selected and sent to the Final Judges – Thea Sharrock, Julian Fellowes, David Suchet and Professor Dan Rebellato.
This process will take rather longer than anticipated, due to the excellent response. We cannot say yet when the results will be announced, but please watch this space.
The Terence Rattigan Society
President:  Princess George Galitzine MBE
Vice Presidents:  Michael Darlow.  Greta Scacchi.   David Suchet, CBE.   Geoffrey Wansell.
Chairman:  Barbara Longford
The Terence Rattigan Society was founded in Sir Terence Rattigan's centenary year, 2011,  to celebrate, enjoy and study the work and life of one of the Twentieth Century's greatest playwrights.  A prolific and successful author of plays and film scripts,  Terence Rattigan's most celebrated works include 'French Without Tears', 'The Winslow Boy', 'The Browning Version', 'The Deep Blue Sea', and 'Separate Tables'.
BENEFITS of membership include:
A regular printed copy of the dedicated magazine, with articles by leading playwrights, biographers and critics, as well as theatre listings and news and views.
Visits to the leading drama schools for Rattigan productions, by talented young students.
Masterclasses for students both young and mature, arranged in cooperation with the drama schools.
Theatre visits at discount prices, with optional suppers and an opportunity to meet like-minded people.  Discussions with cast members and directors.
Opportunities to visit Rattigan's home at Albany and his birthplace in Cornwall Gardens.
Events at The Garrick Club, courtesy of its historian, Geoffrey Wansell.
Opportunities to attend events at Rattigan's former school, Harrow and to explore their Rattigan archive.
Opportunities to visit RAF sites with a Rattigan resonance, with film screenings and supper.
Walking tours of areas where Rattigan lived and worked.
The Society was founded in 2011 with the support and approval of The Sir Terence Rattigan Charitable Trust and also of his biographers, Michael Darlow and Geoffrey Wansell.
Latest News:
Last modified on 2016-09-20 12:04:19 GMT. 0 comments. Top.
Christmas Event: Saturday 3rd December, 2016
2 Dugard Way (off Renfrew Road), London SE11 4TH
Rattigan on Screen
2.30 p.m..  The Cinema Museum
Guest of Honour:  Liz Fraser
London's Cinema Museum is devoted to keeping alive the spirit of cinema. Set in historic surroundings in the former Lambeth Workhouse, Kennington, close to the Elephant & Castle, the Cinema Museum houses a unique collection of artefacts, memorabilia and equipment that preserves the history and grandeur of cinema from the 1890s to the present day, including items relating to former Workhouse inmate, Charlie Chaplin.
Clive Montellier will open the event by interviewing our Guest of Honour, Liz Fraser. Well known for her many appearances in British films, Liz Fraser has a number of connections with the world of Rattigan. In 1970, she appeared opposite Telly Savalas in a TV production of Man and Boy, and she has also appeared on stage in Flarepath. In addition, one of her early cameo roles was in Wonderful Things, opposite our President in her film debut.
Our featured film for the day will be 'The Sound Barrier' released in 1952 with screenplay by Terence Rattigan. Epitomising the groundbreaking work of the British aviation industry, this was the film highlighted by Simon Heffer in his address to the Birthday Dinner as one of the shining examples of post-War British film-making. Our day will also include a tour of the museum for those who have not already had this experience.
Tickets cost £12 to include refreshments.
Last modified on 2016-10-25 13:08:44 GMT. 0 comments. Top.
The National Theatre Discover YouTube Channel have put together this brilliant introduction to the work of Terence Rattigan. Please find the video below:
Last modified on 2016-11-03 09:33:07 GMT. 0 comments. Top.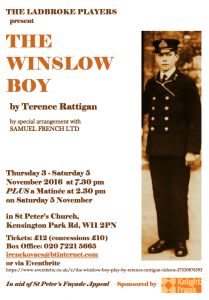 The Ladbroke Players are performing Terence Rattigan's play THE WINSLOW BOY THIS WEEK from Thursday 3rd to Saturday 5th November at 7.30 pm, plus a Matinee on Saturday 5th at 2.30 pm, in St Peter's Church, Kensington Park Road, W11 2PN.
Tickets £12 (£10 concessions) Box Office irenekovacs@btinternet.com (tel 020 7221 5665) or
online via Eventbrite
In aid of St Peter's Façade Appeal. Please see attached flyer and mailshot for more info.
If you want to book online you can just search under "Eventbrite Winslow Boy" rather than using their fiendishly long reference number!
For more News, click here.